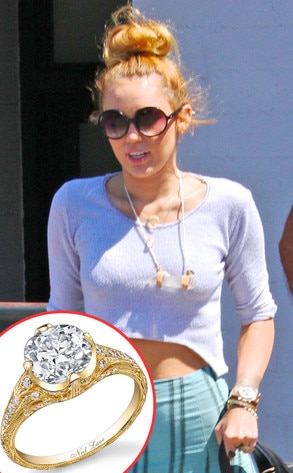 And husband-to-be Liam Hemsworth proved he does not mess around when it comes to presenting an engagement ring.
Behold this one-of-a-kind, 3.5-carat, cushion-cut diamond ring, iced with 18-karat gold and diamond floral motifs. The Hunger Games costar designed the ring with celebrity jeweler Neil Lane. And while we're not particularly in love with the over-the-top Disney princess style, we are impressed with another detail
We hear the center stone is an antique. (Well, actually, a lot of diamonds are antiques, having been dug out of the earth after centuries of pressure formation, but we digress.) This particular rock has a history dating back to the late 19th century. In fact, it was hand-cut sometime around 1880, in an era when no two diamonds were exactly alike.
So what do you think of the ring's design—gotta have it? Make it stop? Or keep the center stone and make the rest stop? Up to you.