It took
Juan Manuel Marquez
39 rounds to drop Manny Pacquiao to the canvas for the first time in their epic quartet. When he knocked him down again three rounds later, it was more than Pacquiao's unconscious body that plummeted to the ground. His entire legacy hit the mat and shattered into a million pieces.
With his sixth-round knockout of Pacquiao, the kind of finish that left no room for ambiguity, Marquez settled the score with the Pac-Man once and for all. While Marquez hadn't technically won any of the three previous fights, at least on the official scorecards, some of the decisions were so dodgy that fans didn't feel the series had a definitive winner.
No more.
As Pacquiao lay face down on the ground, it was clear to everyone that Marquez did more in one night than Pacquiao did in three to answer the question "Who is the better boxer?" In the three previous bouts, Marquez had left things in the hands of the judges. Three times, he had left the arena disappointed.
This time?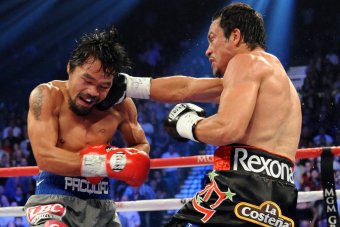 USA TODAY Sports
This time was different. As Pacquiao pursued him into the ropes in the sixth round, looking for a knockout of his own, Marquez lined up a perfect counter right hand, sliding it over the top of Manny's lunging blow. What followed was truly shocking.
For the first time since he took America by storm in 2001, Manny Pacquiao was truly and unquestionably knocked out cold. He dropped so fast and landed so hard, many were legitimately concerned for his well-being. His wife, watching ringside, was in near hysterics as what seemed like 100 people entered the ring in the aftermath of the blow.
While it's unclear if his career is over, certainly his reign as boxing's pound-for-pound kingpin is at an end. But what a way to go out—with a bang and not a whimper, even if that bang was Marquez's fist caroming off his skull.
Pacquiao vs. Marquez 4 took place on Dec. 8, 2012 at the MGM Grand in Las Vegas. Manny Pacquiao was facing Juan Manuel Marquez for the fourth time in their careers. Pacquiao had won the two previous meetings.
For more on Marquez's remarkable victory, check out the play-by-play from MMA Fighting's Luke Thomas.
Round 1: Pacquiao, as expected, opens as the aggressor. Marquez and Pacquiao pawing with jabs and Pacquiao lands a very good left. Another good left and they're trading shots. Another good left and uppercut by Pacquiao.

MMA Fighting scores this round 10-9 Pacquiao

Round 2: Marquez leans in on a left hook and misses. Pacquiao is pressuring, but not overly so. Marquez is landing on the inside, but so is Pacquiao. Another good left by Pacquiao and another. That was hard. Good left hook for Marquez.

MMA Fighting scores this round 10-9 Pacquiao

Round 3: Marquez wings a left hook and it's blocked. PAcquiao is aggressing, but a little more measured. Right and a left for Pacquiao lands. Good left to the body for Marquez. And another. Huge overhand right floors Pacquiao. That's a real knockdown. Pacquiao pushing forward, but no they're swinging in the middle.

MMA Fighting scores this round 10-8 Marquez

Round 4: Pacquiao still aggressing, but so far nothing major in this round. Both fighters trade lead hands. Pacquiao pushing in, but eats a counter shot from Marquez. Good, short punches inside by the Filipino. The fighters again trade shots in the middle, but Marquez gets the better of them generally speaking.

MMA Fighting scores this round 10-9 Pacquiao

Round 5: Good left from Pacquiao as he scores the first shot of the round. Left hand drops Marquez and that's a knockdown. Pacquiao eats another shot, but this is still his round...so far. Pacquiao eats a left but he he's still pushing forward. This is incredible. These two are eating what can only be described as unreal.

MMA Fighting scores this round 10-8 Pacquiao

Round 6: A Manny flurry lands hard, but Marquez responds with a left of his own. Pacquiao lands repeatedly with punch combinations and then angle cuts. Pacquiao really putting the pressure on Marquez trying to put him against the ropes. Big left partially wobbles Marquez until he hits Pacquiao with a MONSTER left that puts Pacquiao down. He is out COLD. Unbelievable. Marquez has KO'd him flat cold.

Juan Manuel Marquez def. Manny Pacquiao via KO at 2:59 of round 6